By Marta Rose-Thorpe
Experience the Excellence of Ambrosia
My husband took me to Ambrosia Prime Seafood & Steaks over Memorial Day Weekend, and wow, what an experience! I had heard excellent things prior to our visit, and I knew the establishment was one year old – but little else. We arrived in the early evening. As the hostess brought us into the main dining room I fell instantly in love with the environment. Soft tones of pale beige and eggshell permeated the room, with white linen-adorned tables and sumptuous leather booths – a morphing of old school decadence with modern coastal elegance. Light music filled the background, with the low din of friendly chatter from other patrons. And then Annie and Jamie (GM and Assistant GM) arrived at our table with a welcome aperitif: glasses of chilled LaMarca Prosecco, each with a lone, plump blackberry afloat. We met our server KarolAnn, highly informed with every detail of Ambrosia as she was part of the opening team, and she took care of us throughout the night. The show was about to begin!
Starting the Night Off with Craft Cocktails
Craft cocktails got the evening started. I ordered the Ambrosia 75: a pale lavender elixir of Empress Gin, St. Germain liqueur and a splash of Prosecco served in a tall champagne flute… cool and crisp, with floral notes and hints of citrus. Jimy ordered the Revolver served in an old-fashioned glass: Woodford Bourbon with coffee liqueur… potent and smooth, with undertones of rich espresso and orange bitters. Annie explained that Executive Chef Pablo, who hails from Chile, had created a special tasting menu for us – each course paired with its own wine – and throughout the night Chef came out to our table to explain the details, origins, and nuances of each course. Finding the very best, top-notch, fresh seafood was one of his top priorities, he shared, and he had located his source: Tarpon Docks Seafood Market in Panama City, Florida.
First Course: Pairing of Appetizers
First came the Ceviche: cubes of tender, fresh snapper splashed in a citrusy-ginger-cilantro emulsion, served with yucca and plantain crisps. This appetizer was paired with the Emmolo Sauvignon Blanc '22 from the Wagner Family, makers of Caymus in Napa Valley. Fresh and racy, this smooth white with a salty edge paired beautifully with the ceviche's underside of roasted sweet potato puree. Soon KarolAnn came out to pour our second wine, the Cade Sauvignon Blanc '22 from Napa Valley… playful, fun, and slightly bolder with a beautiful earthiness. This was paired with the not-so-classic Deviled Eggs, a towering sculpture of deviled egg halves under large, tender, crispy-fried oysters, then topped with a succulent bacon marmalade infused with balsamic, coffee and chives. (Note: If your evening calls for only light bites or appetizers with your libation, this is a wonderfully fulfilling dish.)
Fine Wines and Caribbean-Inspired Florida Red Snapper
By now the room had dimmed to an amber glow as the sun was setting, casting a warm, happy ambiance. KarolAnn arrived with our third wine, Conundrum '21, a white blend from California (also in the Wagner Family) …gentle, sun-kissed and stealthy, a perfectly sturdy support for our next superstar entrée, the locally caught, Caribbean-inspired Florida Red Snapper. This tender fish was seared with a crispy top, served alongside fresh pineapple salsa spritzed with Persian lime and toasted coconut on a bed of warm coconut jasmine rice. This sweet, mellow rice, drizzled in a light beurre blanc, was the perfect foundation for the snapper's citrusy, salty flavor explosion.
The Very Finest Ribeye Steaks, Sides and Desserts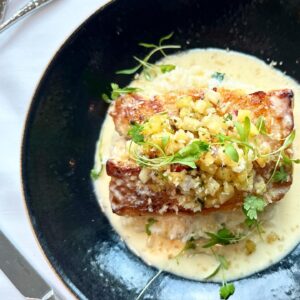 Annie shared that owner Russ Graham scoured the country in search of the very finest steaks for his establishment, and what he found were premium cuts from farms in Iowa, Idaho and Omaha, NE. Snake River Farm in Idaho is home to our main course, the magnificent Ribeye trickled with parsnip aioli, served medium-rare… tender, marbled, and perfectly cooked with a flavorful savory rub. Our sides included the delicious charred Shishito Peppers with Goat Cheese Crema lightly spritzed with lemon (it's hard to stop at just a few of these), and the five-cheese spiral Mac & Cheese, beautifully al dente noodles in a creamy but surprisingly light cheese sauce. The entree was paired with a bottle of Stellekaya '20 red blend from South Africa, complex and full bodied. Cabernet Sauvignon, Malbec, Merlot, and Cab Franc are married into a soft, smooth wine with huge flavor that belies its age. And then finally, our last course, dessert. Coffee was served with two masterpiece classics: the Chocolate Chip Bread Pudding, brioche-based with Ghirardelli milk chocolate and cinnamon anglaise, and a slice of New York Style Cheesecake with Chantilly cream in a graham cracker crust topped with fresh strawberries.
Russ Graham chose 'Ambrosia' as the name for his establishment as it refers to food and drink of the gods in ancient Greek myths. His mission is simple: to provide the best of the best in food, service, and atmosphere. And he has succeeded. The dishes are both delicious and visually stunning. Jimy and I noted that the Ambrosia team works extremely well together; their service throughout our entire meal was seamless, from the warmth and friendliness they exude to their impeccable knowledge of the menu and the establishment itself.
Ambrosia Prime Seafood & Steaks is proud to serve the highest quality seafood and steaks in the 30A area and prides itself on hospitable service paired with chef-inspired dishes. Ambrosia is located at 75 Origins Main Street in the Watersound Parkway Town Center near 30A. Dining Room hours are Monday through Saturday, 5 to 10 p.m., and Sunday from 5 to 9 p.m. The Bar opens daily at 4 p.m.; "Caymus Happy Hour" is Monday through Thursday, 4 to 6 p.m. (a must-try for wine enthusiasts). Their Happy Hour menu includes a rotating collection of inventive "comfort-food" small bites like Strawberry Caprese, Fried Fish Tacos, Ceviche of the Day, Tuna Crudo, Truffle Fries, Burgers, and build-your-own Charcuterie Boards.
For more information and to make reservations, call (850) 909-0100 and visit ambrosia30a.com.