March 5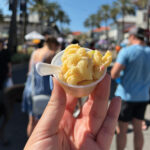 Boys & Girls Clubs of the Emerald Coast hosts several events throughout the year to support it's worthwhile programs. Club programs and services promote and enhance the development of boys and girls by instilling a sense of competence, usefulness, belonging and influence all in a safe place to learn, grow and have fun.
The BGCEC's 5th annual Mac & Cheese Festival takes place Sunday, March 5, 2023, from Noon to 3 p.m. at Destin Commons. The family-friendly event will feature gourmet, chef-inspired twists on the South's favorite comfort food. Local restaurants far and wide will bring their best macaroni masterpieces to compete for the best mac and cheese in town. There are three categories each local restaurant can win in total: Judge's Choice Award, People's Choice Award, and Kid's Choice Award. Attendees are invited to taste each delicious sample from the vendors and cast their vote – all the while supporting BGCEC.
To purchase tickets (VIP $45; General Admission $25; Children GA $15), visit Eventbrite. To compete, volunteer or sponsor, contact [email protected]
March 10
2nd Annual Soiree on the Bay
Enjoy a lavish gathering with fine wine, food and spirits at the 2nd Annual Soiree on the Bay, benefiting Children's Volunteer Health Network, Friday, March 10, 6- 9 p.m., and Saturday, March 11, 1:30-7 p.m. This weekend event is presented by the Dugas Family and will take place on their stunning family estate overlooking the Choctawhatchee Bay in Santa Rosa Beach. Guests will indulge in cuisine by Cafe Thirty-A, wine tastings featuring Thompson 31Fifty Wines and Etude Winery, as well as an assortment of beverages provided by Mighty Swell. The evening will feature a live auction.
Proceeds will go toward CVHN mission to eliminate the barriers to accessible and affordable healthcare for children in need through mobile solutions to provide free restorative dental services to children in need across Okaloosa and Walton counties. Visit www.cvhnkids.org/soiree-on-the-bay for more information or to purchase tickets for the event. The Dugas Family Estate is located at 38 West Hodge Road, Santa Rosa Beach.
March 11
ECTC: Comedy on the Boulevard
Emerald Coast Theatre Company invites you to Comedy on the Boulevard on Saturday, March 11 at 7:30PM. Come for an uproarious night of laughs. Hosted by resident funny guy Jason Hedden, ECTC presents some of the Southeast's most hilarious comedians. All ECTC productions will be staged at ECTC's space located upstairs at 560 Grand Boulevard in Grand Boulevard Town Center, located in Miramar Beach, Florida.
For additional info, visit www.emeraldcoasttheatre.org or follow along on ECTC Facebook.
To make a tax-deductible donation, volunteer or learn more about Emerald Coast Theatre Company, find them on Facebook, call (850) 684-0323 and visit www.emeraldcoasttheatre.org.
March 11
Alaqua Wellness Festival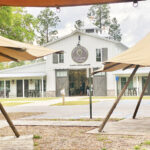 Alaqua Animal Refuge will host its First Annual Alaqua Wellness Festival —an event that celebrates animals, humans, and the earth, and how each coexists with one another and brings healing to the mind, body, and soul on Saturday, March 11th from 10AM – 5PM. The festival is open to guests of all ages. To learn more, visit ww.Alaqua.org. Wellness classes and workshops including yoga, Pure Barre, Chi-Gong, sound baths, nature trail tours, educational seminars and more will be offered throughout the day. In conjunction, there will be a showcase of local vendors, live music, and an array of food and beverage options. The day will conclude with a ceremonial bonfire. The Alaqua Wellness Festival is part of Celebrate!, a month-long celebration during March to mark Alaqua's momentous reopening to the public! To find out how to become a sponsor or vendor for Celebrate! Alaqua, email [email protected] Alaqua Animal Refuge, 155 Dugas Way, Freeport.
March 11
All-Day Mini Music Fest
North Beach Social and The 615 House have teamed up once again to bring Nashville country fire to South Walton, Florida, with a special songwriters concert on Saturday, March 11, 2022. Featuring a stacked lineup of up-and-coming artists, the free event is open to the public. Artists will include Beau Bailey, Shaylen, Payton Smith, Michal Leah, Jake Puliti, Graham Barham, Caleb Hearn, Andrew Stozling, Abby Anderson, and Chris Ruediger. Saturday's FREE show will take place from 6:00 to 9:00 p.m. with The 615 House artists, including singing competitions, games, and some next-level karaoke.
Known for their next-gen revolution of country music using social media (check out their TikTok channel if you're ready to join their 2.8 million followers in watching hours of epic videos), the artists at The 615 House are packing up and rolling out to celebrate the change of seasons with a day full of music beside the Choctawhatchee Bay. Whether you're driving, boating or paddling to North Beach Social, come join us!
On Friday evening, March 10, the 615 House will also host a private event on the North Beach Social dock, which will be closed to the public, but North Beach will still be open, and diners will no doubt catch some of the music from the beach!
More information can be found at northbeach.social or by contacting Madison Shirley (Director of Brand & Storytelling).
March 11
Sinfonia Gulf Coast: Classical Connections feat. Geneva Lewis
Join Sinfonia Gulf Coast for Classical Connections featuring Geneva Lewis on Saturday, March 11th at 7:30 PM at Destin High School, 4325 Commons Dr W.
Purchase tickets at: sinfoniagulfcoast.org/web/events.aspx
New Zealand-born violinist Geneva Lewis has forged a reputation as a musician of consummate artistry whose performances speak from and to the heart. Lauded for "remarkable mastery of her instrument" (CVNC) and hailed as "clearly one to watch" (Musical America), Geneva is the recipient of a 2022 Borletti-Buitoni Trust Award, 2021 Avery Fisher Career Grant, and Grand Prize winner of the 2020 Concert Artists Guild Competition. Deeply passionate about collaboration, Geneva has had the pleasure of performing with prominent musicians such as Jonathan Biss, Glenn Dicterow, Miriam Fried, Kim Kashkashian, Gidon Kremer, Marcy Rosen, Sir András Schiff, and Mitsuko Uchida, among many others.
March 17
FOOW: St. Patty's Day Celebration
Join FOOW – Fish Out Of Water at their St. Patty's Day Celebration. From 4 – 10PM, enjoy Irish style live music and Chef-inspired features. Green beer and cocktails available for purchase to get the party started! Live Music by Weston Hines 4-7. FOOW30a, 34 Goldenrod Circle, Santa Rosa Beach. https://www.foow30a.com/
March 17
Baytowne Wharf: St Paddy's Day Paint the Village Green
Celebrate the Luck of the Irish at The Village of Baytowne Wharf on Friday, March 17th from 6 – 9PM. Featuring Carpenter Academy of Irish Dance and Live Music from Shenanigans! Free and open to the public. Guests can also enjoy merchant specials around the Village of Baytowne Wharf for St. Patty's Day all night long! The Village of Baytowne Wharf is the heart and soul of Sandestin Golf and Beach Resort and the gathering place for many locals and visitors along the Emerald Coast. Learn more about shopping, dining, nightlife and events at www.baytownewharf.com and on Facebook.
March 19
Summer Haze Music Festival
Southern Sound Music Alliance presents the Summer Haze Music Festival on Sunday, March 19th from 11AM – 9PM. This full day event will feature some of SoWal's favorite musicians at North Beach Social. General admission is free. VIP & Sponsorship opportunities available.
The event kicks off on Sunday, March 19 at North Beach Social at 11:00AM with live. music featuring Hunter & Tony, Certainly So, Siren & the Mudpuppies, Mississippi Shakedown, Chris Alvarado Trio, Boukou Groove, and the Iceman Special! Local art vendors will also be set up for the day.
Proceeds from the event will benefit A Bed 4 Me, a local nonprofit that helps children in need. For more information on the artists, ticket sales and sponsorship opportunities, visit Summer Haze Spring Fling.
March 25
Alaqua Animal Refuge Wild & Free Festival
Alaqua Animal Refuge will host a Wild & Free Festival on Saturday, March 25th from 10AM – 5PM featuring live music, food and beverages, and a "baby shower" for the hundreds of native orphaned wildlife that make their way to the shelter. Enjoy a wildlife scavenger hunt, face painting, birdhouse decorating, and tour of Alaqua's new wildlife ambulance — filled with animal ambassadors! This event will highlight Alaqua's Wildlife Rehabilitation Center, a state and federally permitted facility, providing a much-needed resource for rescue, rehabilitation, and release of sick, injured, and orphaned native Florida wildlife across an 11-county area. Alaqua Animal Refuge, 155 Dugas Way, Freeport. https://alaqua.org.
March 31, April 7
Emerald Coast Theatre Company: You and Me Under the Sea
The Emerald Coast Theatre Company presents You and Me Under the Sea, a Theatre for the Very Young: Interactive Theatre. All ECTC productions will be staged at ECTC's space located upstairs at 560 Grand Boulevard in Grand Boulevard Town Center, located in Miramar Beach, Florida. Tickets and information can be found at www.emeraldcoasttheatre.org. Friday, March 31 & April 7 at 9:30AM, Saturday, April 1 & 8 at 9:30AM. 560 Grand Boulevard, Grand Boulevard Town Center, Miramar Beach.
April 8
Great 30A Easter Race
The 2023 Great 30A Easter Race will be taking place at Topsail Hill Preserve State Park on Saturday, April 8, 2023. The race starts at 7AM. Runners will have two distinct courses to choose from: the CLEAN FEET 5K course and the STINKY FEET 10K course. Both courses are run entirely inside Topsail Hill Preserve State Park with an awards ceremony to follow. Learn more and register at www.thegreat30aeasterrace.itsyourrace.com. A portion of the proceeds from The Great 30A Easter Race benefits Friends of Topsail Hill Preserve State Park. 7525 W County Hwy 30A, Santa Rosa Beach.