Moon Crush returns to Miramar Beach for the 5th installment of Topeka Live's music vacations. Moon Crush, Blue Moon takes place over the Labor Day Weekend and will feature Ben Rector, NEEDTOBREATHE, Switchfoot, Mat Kearney, Johnnyswim, and more. Single-day passes are on sale now at topeka.live.
Lineup:
Friday will open with Switchfoot and Stephen Day before Ben Rector takes the stage to end the night. Day two features opening artist Mat Kearney and Stephen Kellogg and ends with NeedToBreathe, who are making their second appearance on the Moon Crush stage after appearing during the inaugural Moon Crush, Pink Moon in 2021. Day three you will see Johnnyswim and Jordy Searcy open the evening before Ben Rector returns with his Old Friends to close out the weekend.
Topeka Live and Moon Crush have made quite a name for themselves. In just 3 years and 4 shows behind them, they have quickly turned a lot of heads in the music festival industry. In their recent April issue Southern Living recently named Moon Crush #12 of The Best Music Festivals to Attend. That is an impressive accomplishment, as they rank high on a list that features nationally recognized festivals such as Austin City Limits, Bonnaroo and the New Orleans Jazz & Heritage Festival. Topeka Live's CEO, Andy Levine was recently interviewed by Forbes Magazine about Topeka Live and what sets them apart from all the other festivals. The article was based on Brandi Carlile's Mothership Weekend over Mother's Day.
Moon Crush is a unique music experience, where everyone is equal. All guests experience the same level of service throughout the venue. The intimate 5,000 max capacity venue offers assigned seating in your own COVE (Contained Openair Viewing Environment). COVE's come in 2-, 4- or 6-person capacity. They are large and roomy, allowing you to move freely, dance or sit. Moving around the venue is easy without having to elbow your way through crowds to get to your seat, food, or the air-conditioned comfort stations. A major item that sets Moon Crush apart is delivery. Yes, they deliver food, beverages and merchandise directly to your seat! Simply place an order on your phone and in an average time of 5 minutes, your order appears at your COVE. Moon Crush makes it a point to have a good variety of food and beverage by partnering with local food trucks and restaurants.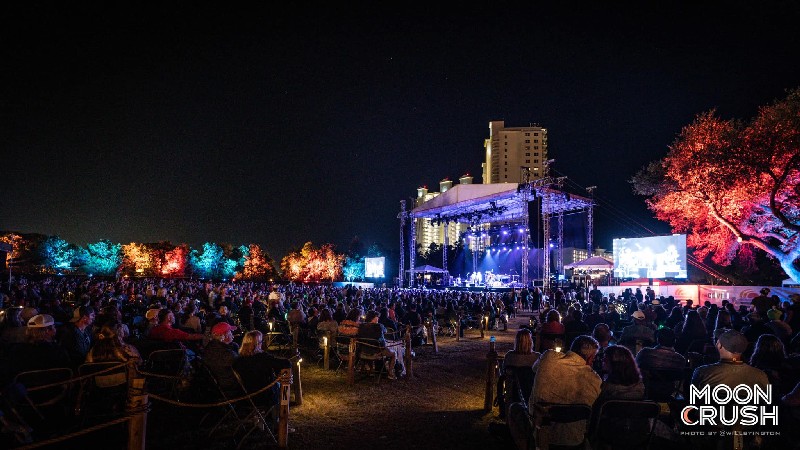 But the real reason Topeka Live and Moon Crush is making a name for themselves is "Real Topeka People." Levine believes a great event starts with great people and he has assembled a team that genuinely cares about the guests. You can say that Topeka is really a customer service company that produces excellent music shows.
Seascape Golf Beach & Tennis Resort is home to Moon Crush and other shows produced by Topeka Live. Seascape and Topeka have partnered to bring a unique music experience to Miramar Beach in South Walton. Seascape Resort's Director of Sales & Events, Michael Whalen says "I have worked with many people that produce concerts and events, but I have never worked with a producer that truly puts the guests first, ahead of making profits." Whalen continued, "It's a joy to work alongside Andy and his team." It appears they have created something special that South Walton has been longing for. Levine stated that we should be on the lookout for new announcements, as Topeka and Seascape have planned for eight shows in 2024. The first will be April 18-21, 2024 with Pink Moon and tickets are on sale now.
You can keep up to date on all announced shows and lineups by checking Topeka.Live.