By Kayla Burleson
Get ready, anglers! August is here and it's bringing with it a whole bunch of fishing opportunities on the Emerald Coast. First up, we've got the Amberjack. These guys are a hot catch right now as the season opened Aug. 1.
If you're after some serious action, now's the time to go after the White and Blue Marlin. But if you're specifically looking for the White Marlin, August and September will provide the best chances of reeling one in. And keep an eye out for Sailfish, they'll be moving closer to shore in the coming months.
For those of you who prefer near-shore fishing, you can try your luck with the Blackfin Tuna. Just chum over deepwater ledges and wrecks using live bait like cigar minnows, herring, pinfish or chunk baits. Or give butterfly jigging a shot! Trolling live cigar minnows on fluorocarbon leaders or throwing topwater poppers can also do the trick.
Sailfish enthusiasts, you can find them around beach reefs and wrecks. They're usually a happy surprise while targeting other species, but if you want better results, try using an offshore spread of ballyhoo, squid chains and teasers.
August is King Mackerel Trolling Heaven
August is also the time when King Mackerel start showing up in abundance. Charter boats and recreational fishermen go nuts for these guys. You can nab them by trolling with dead cigar minnows or using Yo-zuri plugs, Rapala's or spoons. Slow trolling live baits with a stinger or Carolina rig can be effective too.
Now, let's talk Chicken Dolphin. They like to hang around near shore reefs, wrecks and weed lines. Trolling small spoons and casting jigs or swimbaits can help you reel them in.
If you're on the hunt for Tarpon, they'll be hanging out around 5 to 10 miles from the pass. Live baits like cigar minnows, herring or LY's work like a charm. Or you can try Berkley swim baits in the 6-inch size. Just remember, when approaching Tarpon, stealth and a trolling motor are key.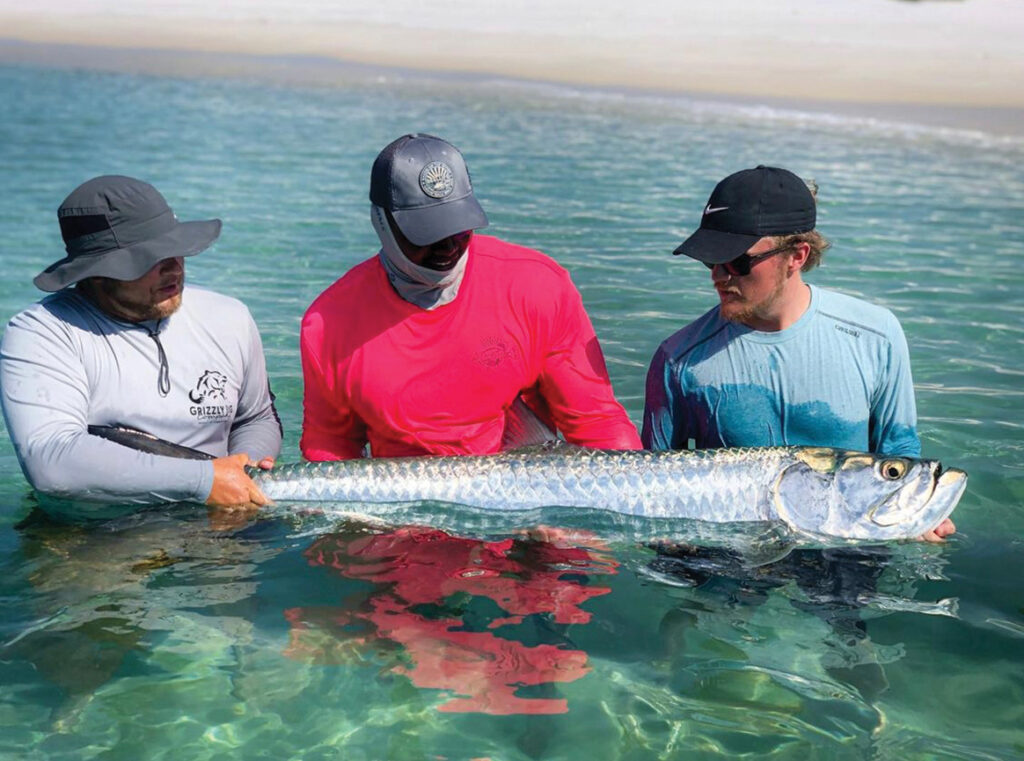 Now, let's not forget about our dear friends, the sharks. Chumming over natural bottom or large wrecks with bait like bonita or mackerel is your best bet here. You'll need a heavy rod, reel combo, 80-lb. or 100-lb. line, and a 150- to 250-lb. wire leader to reel these bad boys in.
August is Grouper Season for Bottom Fishing
For those of you into bottom fishing, you'll be happy to know that Grouper season is here. Scamp Grouper can be found on natural bottoms and wrecks. Amberjack, on the other hand, love to hang around wrecks. Live cigar minnows, hardtails, pinfish or vermillion snapper are all great bait choices. Speaking of Vermillion Snapper, you can find them on wrecks or reefs using a bottom rig with circle hooks and baits like squid, northern mackerel or bonita cut into 1-inch chunks. And if you're on the hunt for Red Grouper, they prefer trash bait and can be caught in shallower waters.
So there you have it, friends, the August Fishing Forecast. Get your gear ready and head out there for some epic fishing adventures!